Farm Fresh Goodness
The philosophy of CG Burgers is simple – use all natural ingredients to create the perfect burger. Bursting with flavor, CG Burgers grinds its own prime meat in their kitchen and then grills it to perfection. Founder and Owner, Carmine Giardini, is not new to the restaurant scene. Giardini is a longtime fixture in the South Florida dining scene with a reputation for quality, and CG Burgers is no different.
CG Burgers already has five locations in South Florida and is consistently growing with the hopes of one day becoming nationwide. The nature of the business would benefit from a website that could keep up with this growth, and Friedman Creative knew just how to make that work. Our team wanted to incorporate an 'all natural, farm fresh' feel to the site, which is why we carried over their well-known farm mural and earthy, wood textures. We created an efficient content management system that allows the restaurant group to dynamically swap seasonal menus and add new locations seamlessly.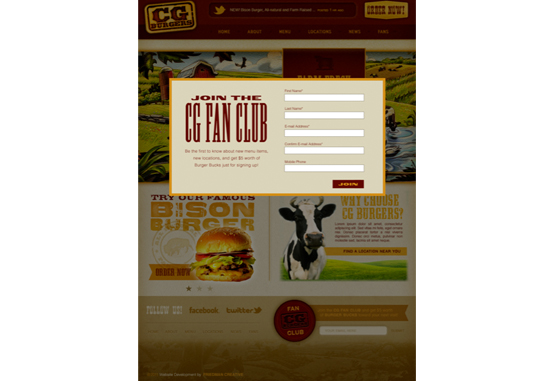 (Above is the CG Fan Club email registration)
CG Burgers loves getting feedback from their customers and that's why we integrated a customer feedback form directly into their new site, eliminating the traditional paper slips they had scattered around each location. Friedman Creative developed a streamlined social media integration, including a dynamic twitter feed into the header of the website. CG Burgers loves getting feedback from you and that's why a customer feedback form was integrated directly into the site.


(Above is the site header with integrated Twitter feed)
Make sure to check out their website at cgburgers.com, and follow them on Facebook and Twitter.