Future of Hair Straightening is Now
If you've been looking for a revolutionary hair product, look no further, KeratinPerfect is it.
Every modern girl out there knows about the time and money it takes to keep your hair looking perfect and KeratinPerfect was designed with you in mind. The 30-Day Brazilian Hair Smoothing System transforms the texture and appearance of all hair types in an easy-to-use, at home application. The entire system is organized into three kits – Duo Pack, Essentials Collection, Deluxe Edition – which provides you support from beginning to end. KeratinPerfect delivers salon-quality results that leave you with above and beyond smoothness and shine. For the finishing touches, KeratinPerfect has two straightening irons available to make styling quicker and easier.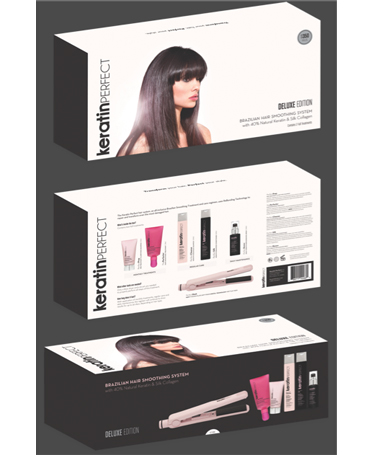 (One of five KeratinPerfect package designs)
Friedman Creative designed and developed a brand new website for KeratinPerfect, as well as creating and developing a social media presence which included the design and development of their Facebook landing page. In addition, we designed five different KeratinPerfect package designs and the store end-cap display, all of which can be seen in Sephora stores throughout the United States and Canada.
The KeratinPerfect Smoothing System has been featured in Elle, People, and InStyle magazine. Check out the power of KeratinPerfect by visiting their website: keratinperfect.com.